FUNFEST 2020
Sunday 28th June 2020 11:30am - 4:00pm
Yateley Manor School, 51 Reading Road, Yateley, GU46 7UQ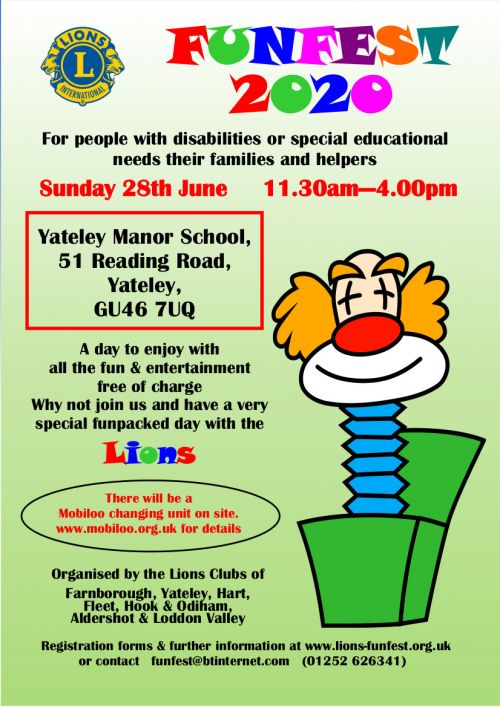 This event is jointly organised by the following Lions Clubs:
Aldershot, Farnborough, Fleet, Hart, Hook & Odiham, Loddon Valley and Yateley & District
To give you a flavour of the day the video below was taken at
Lions Funfest in 2016.

We would like to thank John Sutton of Clearwater Photography.
Funfest is a fun packed day for people with disabilities or special educational needs, their families and helpers.
There is no charge to attend Funfest but those wishing to attend should register.
The emphasis will be on music and fun,
for people of all ages and abilities:
with bouncy castles, roundabouts, steam train rides
and plenty of sideshows and games.
Access for wheelchairs is available both on the field and in the covered venue area should it rain.
A Mobiloo changing unit will be on site for people that need to use a hoist or changing bench.
(Please note that if you need to use the hoist you will need your sling.)
First aid facilities will be on site.
Our aim is for as many people with disabilities, their families and helpers to have a great day out - on us.
Food
A BBQ will be on site, selling beef burgers, vegi-burgers and hot-dogs.
Burgers and hot dogs are £1.00.
Filled rolls will also be available at £1.00 each including a bag of crisps.
To give us an idea of numbers to cater for please indicate on the registration form if you are interested in purchasing food.
Click on the link below for a map showing the location of
Yateley Manor School


(If it rains Funfest will take place in a covered venue at Yateley Manor School)

Please Note


We are proposing to submit articles, together with appropriate photographs, to the local press and the Lions own publications.
If your family does not wish to be included in any photographs please indicate this at registration.
Registration forms are available from our website.
Please apply as soon as possible so that we can have an early indication of numbers attending and please tell us of special requirements.

Please feel free to copy the registration form and pass it along to others who might like to attend.
Reply to: Lion Sue Jackson, 5 Bowenhurst Gardens, Church Crookham, Hampshire. GU52 6NB.
Tel 01252 626341
Email: funfest@btinternet.com